Sweet pickled scallion "Hana Rakkyo"
Crispy and crunchy, with a sweet and sour taste. A long-selling product of Momoya since established and still made in the traditional method of those days.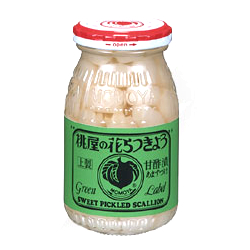 Hana Rakkyo 115g
Packed by Momoya Co., Ltd.
Made in Japan
Contents: 115g (4.05 OZ.)
Ingredients: Scallion, sugar, water, salt, acetic acid.
Nutritional value: (per 100g)
Energy / 116Kcal, protein /0.3g, lipid /0.1g, carbohydrate /26.8g, dietary fiber /3.3g, sodium / 1200mg, sodium chloride equivalent /3.0g
Examples of use