Stale old sencha green tea with fruits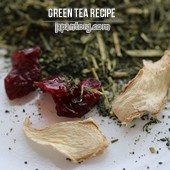 By Japantorg Published: August 10, 2015
How to make tea » Drinks » Pastries » Desserts » Dish » Stale old green tea Ingredients: …
Ingredients / Ингредиенты
Instructions / Метод приготовления
Warm a frying pan, add the stale green tea leaves, on a low heat cook for 30 to 60 seconds mixing with a wooden spoon.

Turn off the heat, add a small amount of chopped dried fruits.

1-2 drops of vanilla essence may be added.

Put in a teapot, pour in hot water and drink as a fruit green tea.